Expert Tip: Ask about our Take 'n Bake Pizzas!
Serving Franklin County since 1988
At Pie in the Sky we are believers in tradition and we build our pizzas with that in mind. Each of our pizzas is made to order to suit your individual taste. We begin with a hand stretched pizza dough, made with 100% virgin olive oil, then topped with our own sauce and a delectable mix of toppings using only fresh produce, top grade 100% beef and pork products and Vermont's finest 100% Mozzarella cheese. The pizza is then transferred to a stone hearth to bake to a desired crispness.
Good food takes time as you know, and preparation times will vary according to the influx of orders. Feel free to inquire about preparation times. Our staff will gladly accommodate you. Or call ahead and we'll have it ready for you when you arrive. If you are craving something different and equally tasty, may we suggest one of our hearty calzones or stromboli. Or if you fancy the more familiar, try one of our pasta dishes, a fresh salad, or sub. All prepared with the same quality ingredients.
For your convenience we offer a "take 'n' bake" pizza which we start for you and you can finish at home. Which ever way you have it, we hope you will enjoy the pride and effort we take to please your pizza palate!
Stone Hearth Pizza, Vermont Beer and Local Art
Join friends for an evening out in our fun and relaxed restaurant where you can chat, dine and laugh. We're a great option for families!
During your visit, we hope you enjoy the original air brush mural by Ron Hernandez, or check out the newer pieces by local artist Jon Young as featured in the County Courier.
Without a doubt the best pizza place around! -Brandon Dubie, Facebook Review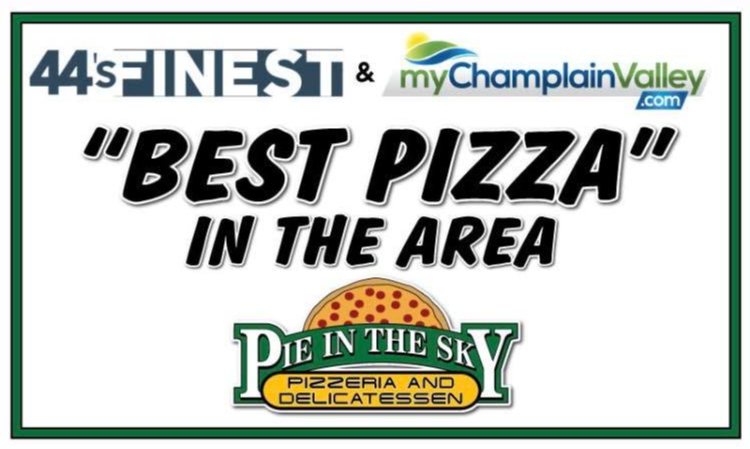 Local 22 & Local 44's Spencer Thomas presents 44's Finest pizza award to Pie in the Sky.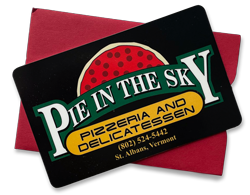 Anytime is the right time to share your love for Pie in the Sky with friends, family, and co-workers. Stop by the restaurant to purchase a gift card today!
Rt 7, Highgate Commons
Saint Albans, VT 05478
Mon - Thurs: 11am - 8pm
Fri - Sat: 11am - 9pm
Sun: Closed