https://www.pieintheskyvermont.com is committed to protecting your privacy online.
What information do we collect?
We do not collect any personally identifiable information from you when you visit our site. You may visit our site anonymously. What do we use your information for?
Cookies
Cookies are small files that a site or its service provider transfers to your computers hard drive through your Web browser (if you allow) that enables the sites or service providers systems to recognize your browser and capture and remember certain information. We use cookies to understand and save your preferences for future visits.
Online Privacy Policy Only
This online privacy policy applies only to information collected through our website and not to information collected offline. Changes to our Privacy Policy If we decide to change our privacy policy, we will post those changes on this page. If you have any questions and suggestions regarding our Privacy Policy Statement, please contact us and we will get back to you very soon.
CONTACT INFORMATION
Pie in the Sky
Mailing address: Route 7, Highgate Commons, Saint Albans, VT 05478
Phone: (802) 524-5442
Contact Email: piesaintalbans@aol.com.
Entertaining?
Call to inquire about our party-size platters!
And of course, everyone's favorite... pizza!
Been coming here for years. The food is always fresh and delicious, and the staff has always been very hospitable. I make it a point to bring my flat lander friends here for their grinders whenever they're in town! -Alex Fonatine, Google Review
Love their pizza & food! I was there the day they opened 30+ yrs ago. In all that time, I can count on one finger the times I was not pleased with the food or service. And, they made good on it even though they didn't have to! A great place to take the family for lunch, dinner or just a snack!
-Bob Bruno, Google Review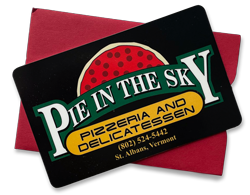 Anytime is the right time to share your love for Pie in the Sky with friends, family, and co-workers. Stop by the restaurant to purchase a gift card today!